Camp leadership has over 25 years of experience working with children and adults with developmental disabilities and in summer camps
Camp is staffed by all volunteers
All camp volunteers are dedicated, caring and experienced
All volunteers are carefully screened with background checks done by department of criminal justice
Volunteers receive general training in first aid, seizure protocol, camp rules, supervision and emergency procedures as well as camper specific trainer
Registered Nurse on site 24/7
Certified lifeguards on duty for all waterfront activities.
If you are interested in volunteering please complete a volunteer application.
All activities are individualized for each camper. Campers are encouraged to try new activities.
Campers have the opportunity to build:
Independence
Self esteem
Friendship
Teamwork
Responsibility
Cooperation
Social Skills
Camp Program: Exciting…Diverse…Individualized
Sports
Basketball
Softball
Soccer
Volleyball
Golf
Badminton
Recreation Activities
Swimming
Yoga
Bocce
Fitness
Boating
Baking
Cooperative Games
Arts & Crafts
Music
Special Events
Campfires
Dances
Boat Rides
Daily Flag Raising
Talent Show
Musical Performance
Bingo Night
Make Your Own Sundaes
Karaoke
S'mores
…and much more
Meals
Food service is handled by professionals
Kitchen is clean and updated and is health department inspected
Meals are served family style in the dining hall
Salad bar every day at lunch and dinner
Every meal is nutritionally complete
Special diets accommodated with advance notice
Lodging
Large cabin style housing each with bathrooms and showers
All housing is air-conditioned
There are common areas in all buildings for group activities
Staffing: 3:1 ratio of campers to counselors in each cabin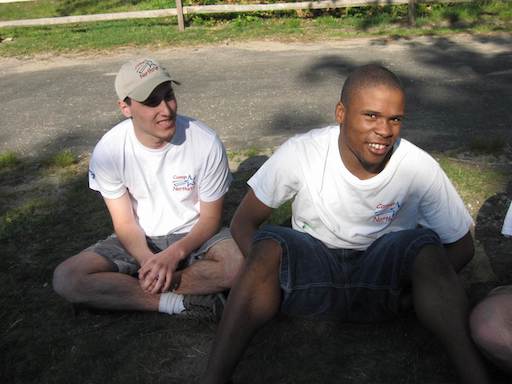 Facilities
Camp Northstar is located on the rocky shores of the northwest corner of Shelter Island at Camp Qunipet. Camp has 40 acres of beach, forest and fields with breathtaking views of the north shore and Greenport. The site is an ideal location for Camp with ample space for all camp activities. There is a paved path for easy access to the different venues.
The facility includes
Basketball Court
Soccer Field
Softball Field
Indoor and Outdoor Volleyball Courts
Arts & Crafts Center
Waterfront, Beach Area
Dining Hall
Recreation Building
If you would like to your child to attend camp, please complete a camper application.